Fiona Armstrong-Gibbs is an author, lecturer and initiator in the fashion and footwear industry, with a particular interest in new and better ways to do business. She is also a director of Baltic Creative CIC, a social enterprise property company established in 2009 to support the creative and digital ecosystem in Liverpool.
Fiona led the Liverbird Shoe Project in July 2017, collaborating with Fab Lab Liverpool at the School of Art and Design in LJMU, and with artist and honorary visiting fellow Emma Rodgers. The project originated from an exploration of different approaches to shoes, sculpture and technology, highlighting challenges in the fashion industry around over-production, and developing innovative ways to mix traditional types of making and 3D printing technologies.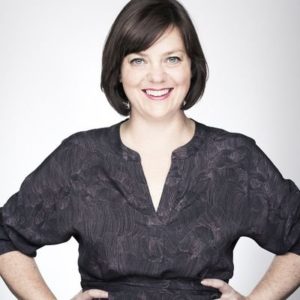 'I have limited practical skills and hope this project will help me develop the basics that I have, particularly in 3D printing software,' she says, pinpointing 3D printing, wearable technology, women in tech and large scale 3D printing as areas she would like to learn more about. 
'Throughout my career in the footwear industry I have worked closely with designers to realise commercial collections. My most recent commercial collaboration was with Joanne Stoker, a British footwear designer and Oka-B, a US-based injection moulded flip flop manufacturer, to create a limited edition pool slide that was launched at London Fashion Week in 2015.'
Fiona says that manufacturing is integral to understanding how footwear and fashion is made, and always insists on seeing facilities. 'Unfortunately the past 20 years have seen a focus on satisfying what the consumer wants and not what is necessarily the best, most ethical or safest way to make and manufacture fashion products. This is part of the problem in a very opaque supply chain,' she says.
Fiona's project is designed to look at ways to solve some of these issues, and bridge the gap between the designer, maker, producer and consumer. As a director of Baltic Creative, she is well aware of people, businesses and organisation collaborating. 'That network and support system gives everyone the confidence to keep innovating, testing and trying,' she says.
'The culture in commercial companies is usually driven by their own management objectives and not necessarily creative individual relationships, so it is important for the maker to keep in touch and not expect to be at the forefront of a company's mind,' says Fiona. 'As a maker, you need to build good relationships with key people in the company and keep delivering something interesting/ bring something to the table.  Know how to stand up for yourself – but be gracious at the same time!'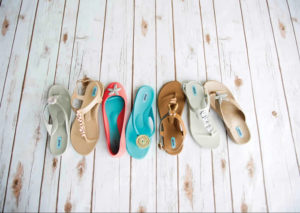 Many of Fiona's targets for her project are around sustainability and ethical trade, establishing a business that can profitably and fairly help all makers to commercialise their creations. 'Creations that can satisfy a customer's desire for something that is fashionable and beautiful, but has not been created through abuses in the supply chain and is manufactured well,' she says.
Fiona will use four criteria to assess the success of the OpenMaker programme, including:
Have we been able to create several footwear designs?

Are any of them actually wearable? A fit test will be carried out…

Is there a potential business model where I can provide a service to makers to transform their work into a commercial product that is well made, and that people want to buy? 

How much interest have we created, press and potential sales orders? 
'The fashion industry has little choice but to embrace 4.0,' says Fiona. 'The rate that people buy, consume and dispose of fashion is totally unsustainable. Finding new ways to manufacture that reduces waste and creates affordable bespoke items is essential – OpenMaker has the power and resources to get people to try to find solutions through new relationships. How can we use 4.0 for good and to challenge some of the current issues in the fashion industry such as overproduction and waste? It's a no brainer!'